FIELD SPARROW
5 3/4"
SONG RECORDED IN WISE COUNTY, TEXAS, IN JUNE 2000
FIELD IDENTIFICATION: The Field Sparrow is a common bird in abandoned fields and brushy areas such as fence-rows. Its most notable field marks include the bright pink bill, and lack of bold head markings. The head has a reddish crown and eye-stripe on a gray-blue background, all blended softly together, along with a thin white eye-ring. This bird is a year-long resident in Wise County.
The American Tree Sparrow is superficially similar, but has more sharply defined head pattern, bicolored bill, lacks the eye-ring, and also has a smudgy spot on the breast.
FEEDER NOTES: The Field Sparrow will eat cracked corn offered on the ground, or from a raised platform feeder. I have noticed that the Field Sparrows tend to stay close to cover when feeding in our yard.
Field I.D. and Feeder Notes by Claire Curry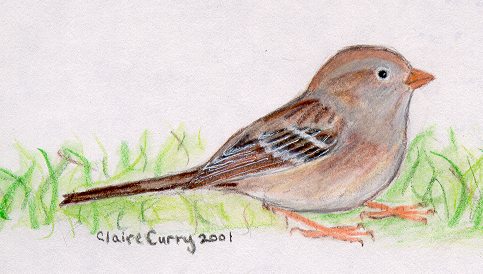 Watercolor/colored pencil drawing by Claire Curry, February 2001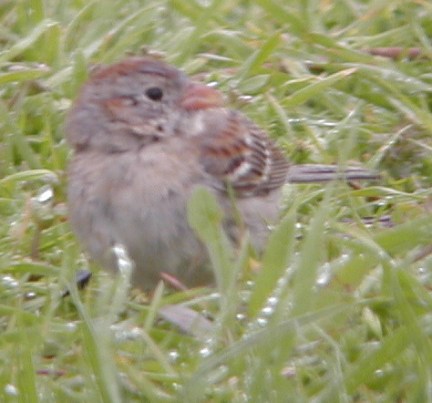 Photo by Mary & Claire Curry in the Spring 2001 in Greenwood, Texas